We can do it even better with your support.
We are grateful to the individuals, small businesses, corporations, and foundations that support the Card Cyber Museum. This community of supporters helps the Card Cyber Museum fulfill its mission of bringing a top-notch, world-class, online, visual card browsing experience to our community, creating educational content and exhibitions, and enhancing our collection.
If you have complete card sets that are not currently available here, you can send them to the curators at the Card Cyber Museum. We will do the scanning, then add the cards to the web site, so they can be viewed online.
They can be regular sets or insert sets, but please ensure they are complete. All sports and other types of trading card sets can be donated.
If you would like the cards sent back to you, please mention that when you send them to us, and we will ship back the cards after scanning.
By making a card set donation to support the Card Cyber Museum, you will join this community of supporters who means so much to us, and in doing so you will help the CCM continue to offer public access to the Museum's content and tools for free.
Please contact us using our site contact form if you can contribute. Let us know what you have and we will coordinate everything else with you. Thank you!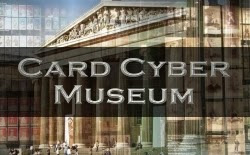 Keywords/Tags