We can't do it without you.
We are grateful to the individuals, small businesses, corporations, and foundations that support the Card Cyber Museum with generous donations throughout the year. This community of supporters helps the Card Cyber Museum fulfill its mission of bringing a top-notch, world-class, online, visual card browsing experience to our community, creating educational content and exhibitions, and enhancing our collection.
By making a donation to support the Card Cyber Museum, you will join this community of supporters who means so much to us, and in doing so you will help the CCM continue to offer public access to the Museum's content and tools for free.
Make a donation online today. Thank you!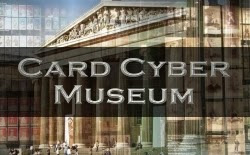 Keywords/Tags